Frederick Loeb
May 18, 2017
"Frederick, my father, died thirty years ago, but the loss remains"
"Dad was born in 1914 and that house wasn't built until 1915. The Dennys, who had a similar house next door, built the house. I believe that Richard was born in that house, but he was six years younger than Fred. I don't know exactly where Dad was born.
I miss that house. I spent a lot of time there with Granny Terese and Grandpa Rudy and Granny Freddy when I was little. I was very sad when I found out that Tom and his siblings had sold the house — not that that surprised me. There was no way they could have kept it after Marianne died — but I would have liked to have visited it one last time. I would have taken pictures of it."    –  Update from ma soeur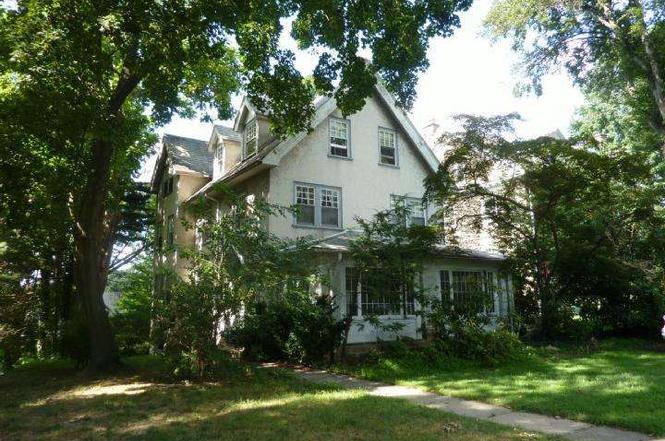 227 Summit Avenue  where Frederick was born, and my grandparents were married.  It was a place that we came to almost invariably with tenderness and compassion for my father was a dutiful son.
It is a dreary  day  here in Denver in Capitol Hill.  I have been very ill with heart disease for the better part of three years.  The suffering has increased and despondency reflecting on the quality of life that I have endured since my father died in 1989 on this day.  His loss mirrors the longing I have had always for a place to be still.  Maybe at long last I can emulate his footsteps his great strides to my tiny attempts to keep up with him.  He loved to walk and to meditate. his life was one of sacrifice and great privilege being from an aristocratic Jewish family in Jenkintown, Pennsylvania.  The house in which he was born was recently sold. It was the same place that his father, Rudolph built at 224 Summit Avenue, and to which Frederick and I often used to walk to visit his younger brother Richard, who took up residence there and managed the factory that made lace curtains and eventually bed spreads and linens.  Frederick had a difficult time with his brother. He wasn't treated with love by  either his mother or his brother.  Frederick to the contrary was solicitous and generous , as was his father. Every Loeb male for generations was a family person, adoring and doting on their children and honoring them with lavish affection.  Frederick was the apex of  kindness and generosity. Scarcely could one imagine a more devoted person to one's family and a willingness to sacrifice everything for their welfare.  Unfortunately for all of us when he died there was no one of his substance, character, and will to follow him.  Except that vicariously his grandson, Lael has passed on this special devotion to his family as a husband and father.  Of my three children Lael epitomizes the sense of justice and spiritual sustenance that has been a part of our family for generations.   This certainly could not be said of my life and although there are women who have devoted their lives to nurturing their children, it was always rare to see this maternal devotion in a father like my son and his grandfather, Frederick.  
One day I look to joining him thankfully and fundamentally and heartily lying down to rest.
of my father Frederick Loeb:  I feel aching in every pore every ounce every cell as I remember his kindness – he was our champion our nurturing spirit looking over us as some would call an angel but too real for his own good he served gentleness and most took that for weakness. his rebukes were subtle but more powerful than a raised fist or angry torrent I NEVER FEEL I loved him enough or paid him the due he deserved but then he never wanted for anything but to be who he was born to be
"My father, Fred Loeb, died on this day 28 years ago. Now, at 5:12 a.m., I sit at my desk, watching the sky get lighter as it would have done that day — the last day of his life. He might have seen it, too. He was very ill. He might have been awake. He died in the evening — after dinner — trying to get up the stairs, to bed. My mother tried to help him. He collapsed on the stairs, and she somehow managed to get him the rest of the way up, to the landing. Perhaps he was already dead. Perhaps she sat next to him while he died. I don't know. They are both gone now. I will never know. But I think of them and of him and of her often — not only on this day, but every day. Here is my epitaph for him: He was a kind, good, generous man, one of the best. He did everything he could for us, always. He suffered greatly. I hope that he knew that he was loved."  
de ma soeur – on reflecting about her father